PRMP Brow & Beauty Studio Review
Hey Y'all!
I am so excited to share my review of PRMP Brow & Beauty Studio with you all!
You KNOW this must be an awesome service I have to share with you because I have NO makeup on in these photos other then iT Cosmetics Superhero Mascara and some lip balm. LOL. That mascara is the G.O.A.T. by the way.
Anywho, I was invited to to the studio by the PRMP team to try out the Precision Brow Shaping + Tint Service. I had been there once before and tried the New Brow Client Experience (read up on the difference between the two services here under brow service FAQs) during the Marjani Beauty Perfect Match Event and loved it. So, I was happy to come back for my follow up appointment to see how our future appointments would go.
The space is really beautiful with a lot of white, fresh decor and windows that brings in so much natural lighting. The selfie station is one of my favorite areas in the studio. She has the perfect selfie light.. DUH!
The studio carries it's own product line Good Brow Day along with some products owned by small business such as the Luv Scrub which is amazing by the way and nail polish!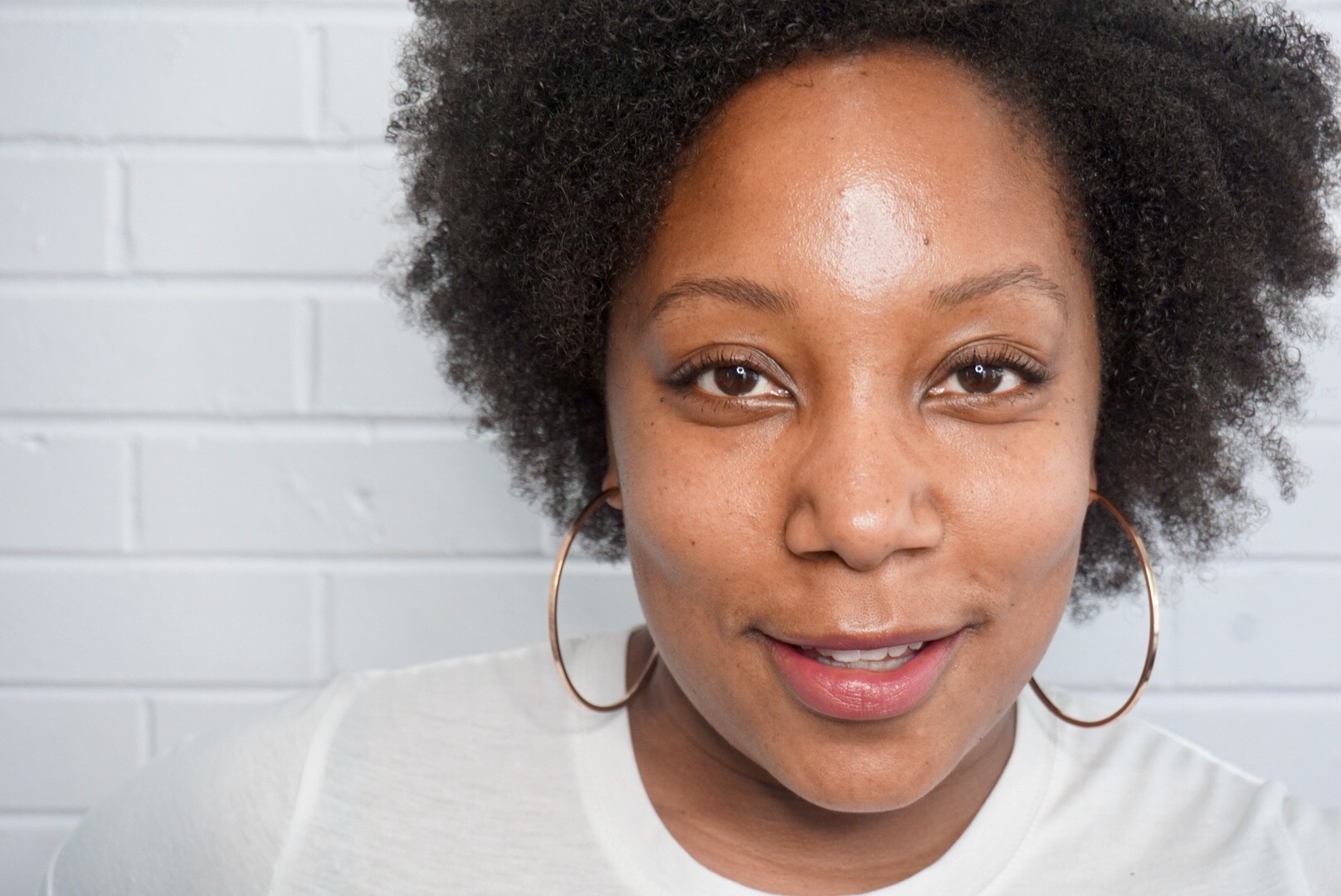 Meet Nicole Alexis!
She is not only THE Master Brow Specialist at PRMP but she is the OWNER and founder of PRMP Beauty Studio. She started out in this field as a Make Up Artist and decided to add esthetician to her resume. She realized she not only had a skill for brows but a passion for them. She invested in perfecteing her craft by practicing and attending trainings. I am jealous that she was able to take a class by THE Damone Roberts! If you don't know who that is; do me a favor and click his name.
She opened PRMP in August of 2016 which has gained so much buzz thanks to social media and good ol' fashion word of mouth.
I asked her how does it feel to have your OWN studio? She said, "It has been one of the most challenging things she's had to do in her life but wouldn't change it for the world!"
As you can see, she is serious about her brows! She literally analyzes not only the shape of your brows but the growth of them as well. During my first appointment, she identified some sparse areas in my brows and suggested I start using a brow gel growth serum or castor oil on them. The suggestion worked! I used a gel growth serum on both my brows and lashes. It's not all natural so I am going to switch over to using my black castor oil.

The tinting process is included with your first service so you will know how it looks. Tinting can last up to 2 weeks depending on skin type, habits and/or oily skin. You will need to go in to have your brows shaped every 3 to 6 weeks and your brow tint can be touched up whenever you like.

The first time I got my brows done my tint lasted about 3 to 4 days.
The last time I got my brows done the tint lasted for about a week and a half. I am not sure if the brow tint may last longer each time you get your brows serviced. I also washed my face very carefully and made sure I kept sweat and oil away from them as much as possible.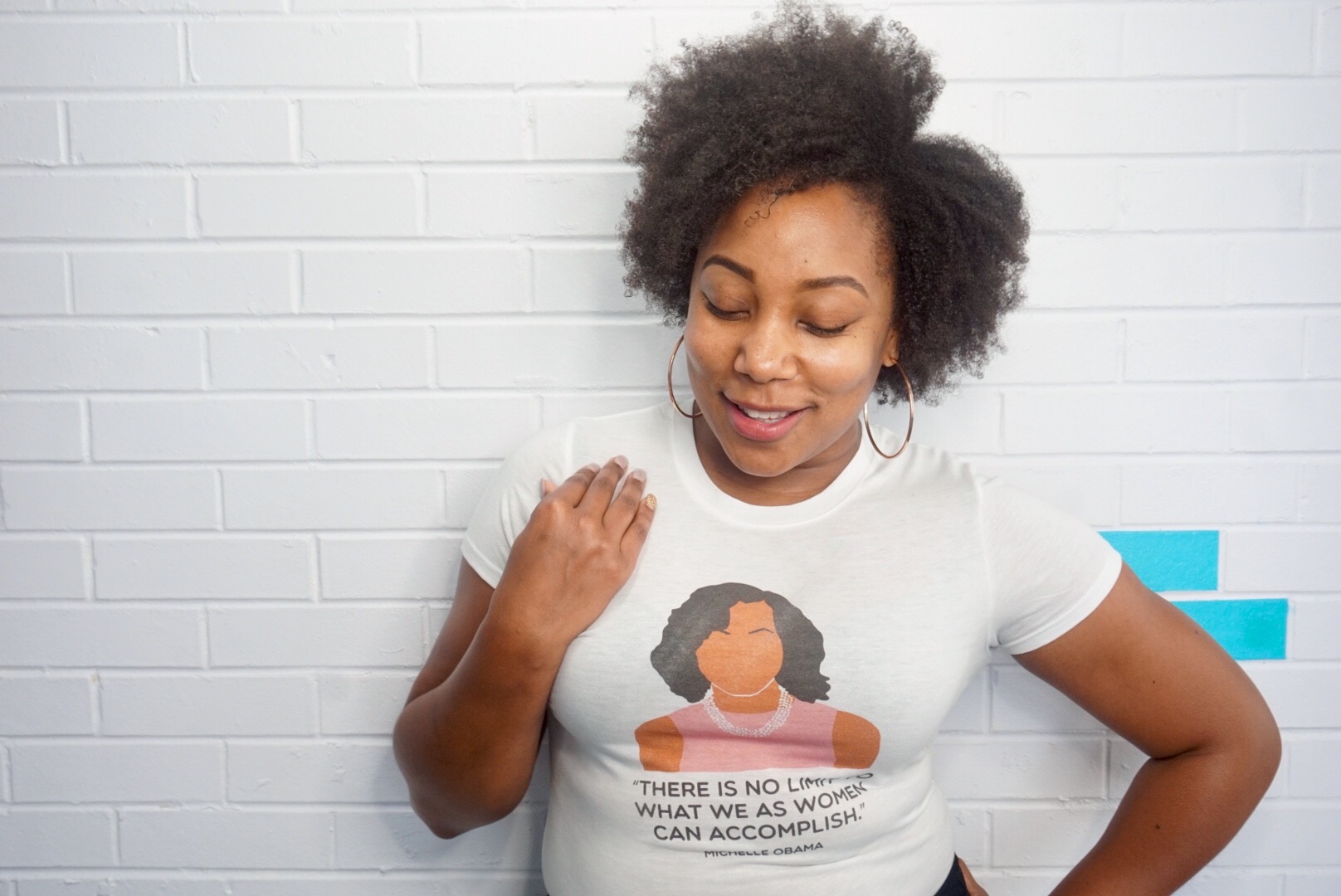 Here is the finished look. Nicole did such a great job! I love them.
I feel like I finally have my perfect shape!
I was sent home with some goodies to help keep my eyebrows looking defined and dope. Good Day Brow powder to touch up my brown tint, the eyebrow brush with spoolie on either side and some under eye patches to help tighten and de-puff under each eye. I really like the the Good Day Brow powder. It has kept my brows looking great!
I purchased the Luv Scrub from PRMP and babbbbyyyy it has changed my shower game. It last for up to 18 months. You heard me. 18 MONTHS! It get the dead skin off and leaves your skin looking so healthy and smooth. Trust me. Grab one!
As ALWAYS, our First Lady Michelle Obama has said, "There is no limit to what we as women can accomplish." ESPECIALLY, on a good brow day. See what I did there.

If you are in the DMV definitely go check out PRMP Brow & Beauty Studio.
They not only offer brow services but they also
offer waxing, makeup application and lash extensions.
They have an awesome referral program! When you book your appointment with them tell them Sommar of andinSommary sent you and the BOTH of us will receive $20 OFF our NEXT service. How awesome is that!? Click here to book your appointment.
Have you been to PRMP Studio or plan to go? Tell me either way.
Comment below because Sharing is Caring!
*This is a sponsored post. All the opinions/views that have been shared are my own and from the heart. I promise to always give you my honest opinion. Thank you for supporting the brands that support andinSommary.*