#DCBLOGiday | 2017 Holiday Soiree Recap!
Hey, Y'all!
I can not believe Christmas has come and gone and we are now approaching a New Year!
How blessed are we?! I'll talk more about 2017 and what's to come in 2018 in another post. Today, I am giving you a recap of our Holiday Soiree and a GIVEAWAY that will let you walk away with a piece of it with you! Before we get into the Giveaway let me first give you some background on our Holiday Soiree.
A few months ago we had the idea to have a holiday party. You know?! An excuse for us to get together in our PJ's, eat and cheers with some champagne. Once our wheels started turning we decided to take a page from our fav Mother O(prah). Let's gift each other some our Favorite Things from some of the brands we have shared and loved over the year(s)!
Guess what?!
We pulled it off!
11 Black-Women Influencers from the DMV area got to partner with some of the best big box brands & bring light to some awesome small black-owned businesses as well. Since we are all budding entrepreneurs it was important to us to also include small business in the mix.

What was also important to us was giving back to the community. We collected over $200 worth of toys for children so that they can have a wonderful Christmas. I am so glad we were able to bless Maryland Community Connection with this donation!

I am so proud of all us. I can not wait for us to do it again next year!
To the ladies & the sponsors that worked with us all,
I THANK YOU!

| CAVA | ESSENTIA WATER | CUPCAKE WINERY | MESS IN A BOTTLE | CHARM CITY NOIR | CLARISONIC | MALIN+GEOTZ | ORIGINS | IT COSMETICS | GLAMGLOW | MONSTER PRODUCTS | SHOE DAZZLE | HONEY BABY NATURALS | GARNIER | OMGLO COSMETICS | MISCHO BEAUTY |
My girl Candice of @mycandishoppe gifted us 2 of her FAVORITE things in 2017!
I know because I have personally tried to steal her stash of products. We received the cult classic, Clarisonic Mia 2 AND a Body Wash, Body Lotion & Perfume Oil in the scent Dark Rum from MALIN+GOETZ.

I have been a fan of Clarisonic for YEARS! I use mine every other day. Since she gifted us one I gave my old one to The Mister so that he can be on Team Clarisonic as well. I haven't heard a lot of feedback from men who use a Clarisonic so I'll let y'all know how he likes it.

My new favorite scent is this Dark Rum from Malin+Goetz.
BABY!
When I tell you it is one of those scents that will make ppl stop you in your tracks and ask, Ma'am, what are you wearing?! If you get a chance please try out this brand. I believe you will love it!
My boo Chelsea of @thatschelsea gifted us some of THE BEST nail polish on the market...
Mischo Beauty!

Reasons why I love Mischo Beauty:
1. It's Vegan-Friendly
2. It's owned by a Black Woman
3. The colors are GORGEOUS!

Those of you who follow me on Instagram know I typically get SNS powder dip polish on my nails. I think I am going to overlay them with this gorgeous polish I was gifted.
Our unicorn, Ondia J. of @theondiaj gave us her fav makeup remover from Garnier Skin Active.
I have tried in the last week and I really like it! I don't have to rub my skin super hard to get the makeup off and it doesn't burn or leave a residue. Glad I have a new makeup remover to go to. Especially, one that is accessible in Target or a drug store.
My dear Brandi of @brandilou88 picked 2 of her FAV skincare brands to gift to us. I was too excited to receive these. I received the Gravity Mud from GLAMGLOW and No Puffery for your under eyes & Ginzing Energy Boosting Gel Moisturizer from Origins. So far I have tried the No Puffery from Origins and it works! Love it! I am looking forward to working the Gravity Mud and Ginzing Moisturizer into my winter skincare routine. This was the perfect time to receive these gifts!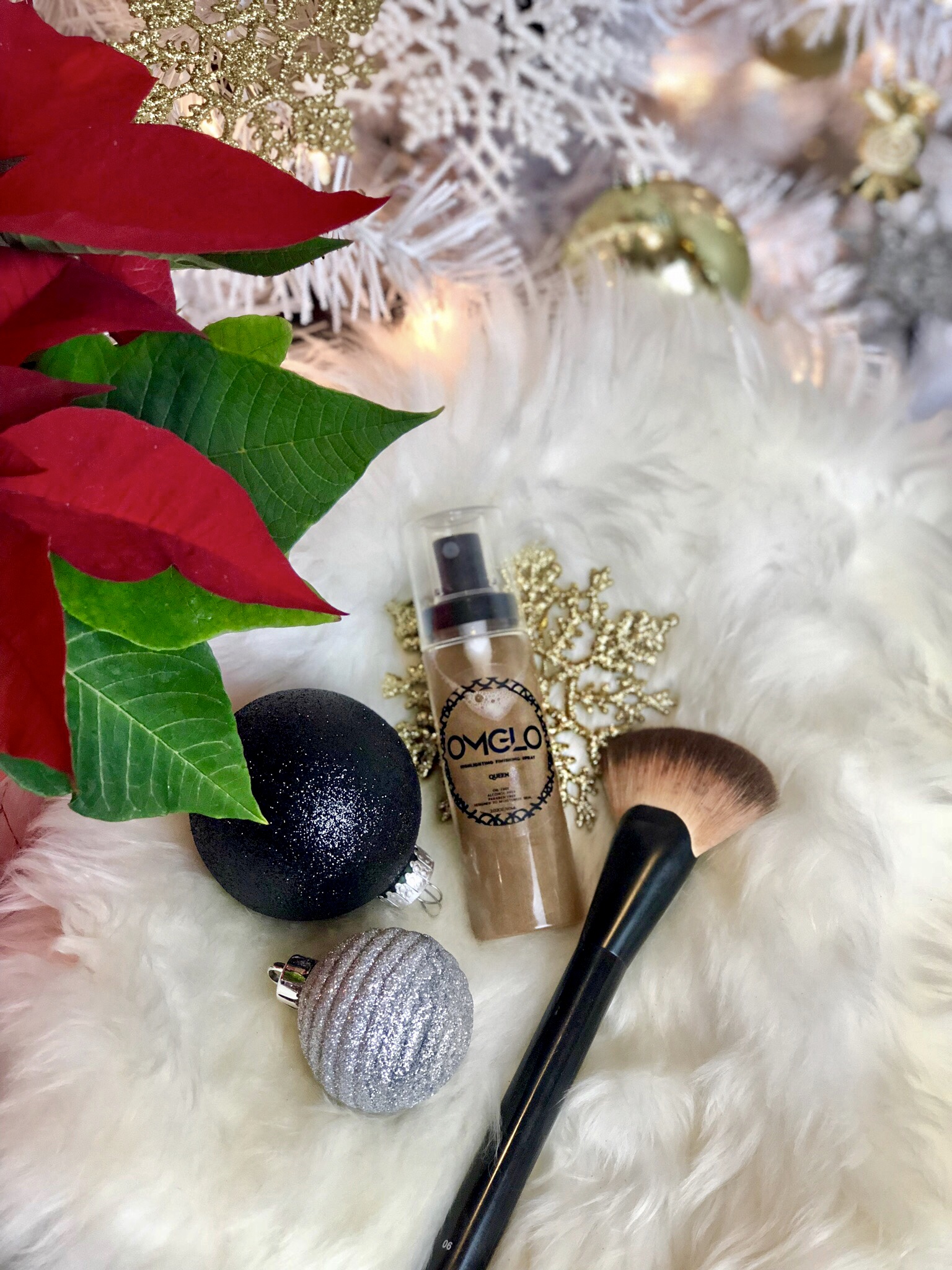 Let me tell you guys something! Mrs. Rashida Banks of @rashida.banks graced us with, what I like to call, her PERSONAL Glow Secret. Other than her God Given Skin. It's complexion perfection at it's finest. TRUST ME.
The Highlighting Finish Spray from OMGLO Cosmetics will have you looking New Year's Eve READY all year round. I am so glad she gifted us this because I don't have to try to steal hers anymore!
My girl T of @thestylemedic gifted me with a pair of Monster earbuds in black & gold. You know I love all thangs metallics and with a sweater cape from Shoedazzle.
First of all, she gifted me with the perfect pair of earbuds that I never knew I needed until I got them. Lol. I have been using them almost every day. They are perfect for working out and for just relaxing, catching up on Youtube.
On to the sweater cape. I can't wait to style it! You will see that on a blog in the near future.
My boo Lauren of @curls_unbothered gifted us some of my FAVORITE and I mean FAVORITE body products from Honey Baby Naturals. We received the Holiday Skincare Bundle form them which included my fav BODY JELLY! I am not kidding I keep about 2 spare jars in my house because I can't be without it. Especially, during these winter months.
As my sister from another mister would say, it's a sin to be ashy!
So last but certainly not least, I gave my girls gifts from 2 of my favorite small businesses...
MESS IN A BOTTLE and CHARM CITY NOIR!
I am sure you weren't too surprised when you saw the gifts on IG. I have talked about them pretty much all year.
Let me tell you guys about my girl Kalilah. The owner of Mess in a Bottle.
I had talked to her early on about doing custom tees for the girls and I. A couple of weeks before our Soiree the unthinkable happened to her. She was robbed at gunpoint by 2 masked men in her storefront. I was so hurt and angry BUT so grateful that her life was spared!
Entrepreneurs work so hard for their craft and money and to have someone just come in to take that away or her life is so devastating! After we found out what happened to her the girls and I decided that we didn't want her to make the shirts anymore. It was more important for her to recover.
Y'all!
Do you know she made the shirts ANYWAY!?
She literally brought me to tears. She INSISTED on making them. Needless to say, she will always have a supporter in me because she supported us despite what she went through!
She is currently raising money to get into a new shop in a safer location.
Please feel free to donate here!

The earrings I gifted the girls were from Charm City Noir which is one of the places I get a lot of my sunglasses and accessories from. It's a cute boutique down in Baltimore, MD. I just knew I had to get her on board with the Soiree! Not only did she gift us with these bad ass tassel earrings. She NAMED them after me! They are the Sommar Holiday Posts earrings and thanks to you guys they are sold out.
However, I may or may not have a pair to GIVEAWAY! Check out the goodness below.
Get Ready Guys!!!
- play video below to enjoy shenanigans! -
#IssaGIVEAWAY
- DISCLAIMER:
The earrings are sponsored by Charm City Noir.
The Sephora gift card was purchased by me -
here's what you need to know & do...
I am giving away a pair of my Sommar Holiday Posts that I gave to my girls at our Holiday Soiree. These are currently SOLD OUT at Charm City Noir thanks to y'all so this is a treat!
I am also throwing in a $50 Gift Card to SEPHORA!
Who doesn't want to spend money at Sephora?! Exactly, everyone does!
*DISCLAIMER: This giveaway is for USA residents only.
This giveaway ends on Monday, 1/1/18 at 11:59 p.m.*